The Shindig – An Archaeology Podcast
The Shindig – An Archaeology Podcast
The Shindig is an award-winning archaeology, history and heritage podcast in which the Red River Archaeology Group's Dr. Tom Horne and Luke Barry chat to experts in the field, authors, and each other to dig up the latest in archaeological research.
---
Hosted on Acast. See acast.com/privacy for more information.
The Bone Chests – With Dr. Cat Jarman
The Bone Chests of Winchester Cathedral: We talk with Dr. Cat Jarman about her best-selling book, The Bone Chests, which tells the remarkable archaeological and historical detective story of the Winchester Cathedral chests that purport to hold the remains of some of the most famous kings, queens and bishops in the history of England and Wessex! It's an amazing true story of cutting-edge science and ancient bones, and the tumultuous centuries the skeletal remains have seen and – despite the best efforts of Roundhead iconoclast soldiers – survived.
---
Hosted on Acast. See acast.com/privacy for more information.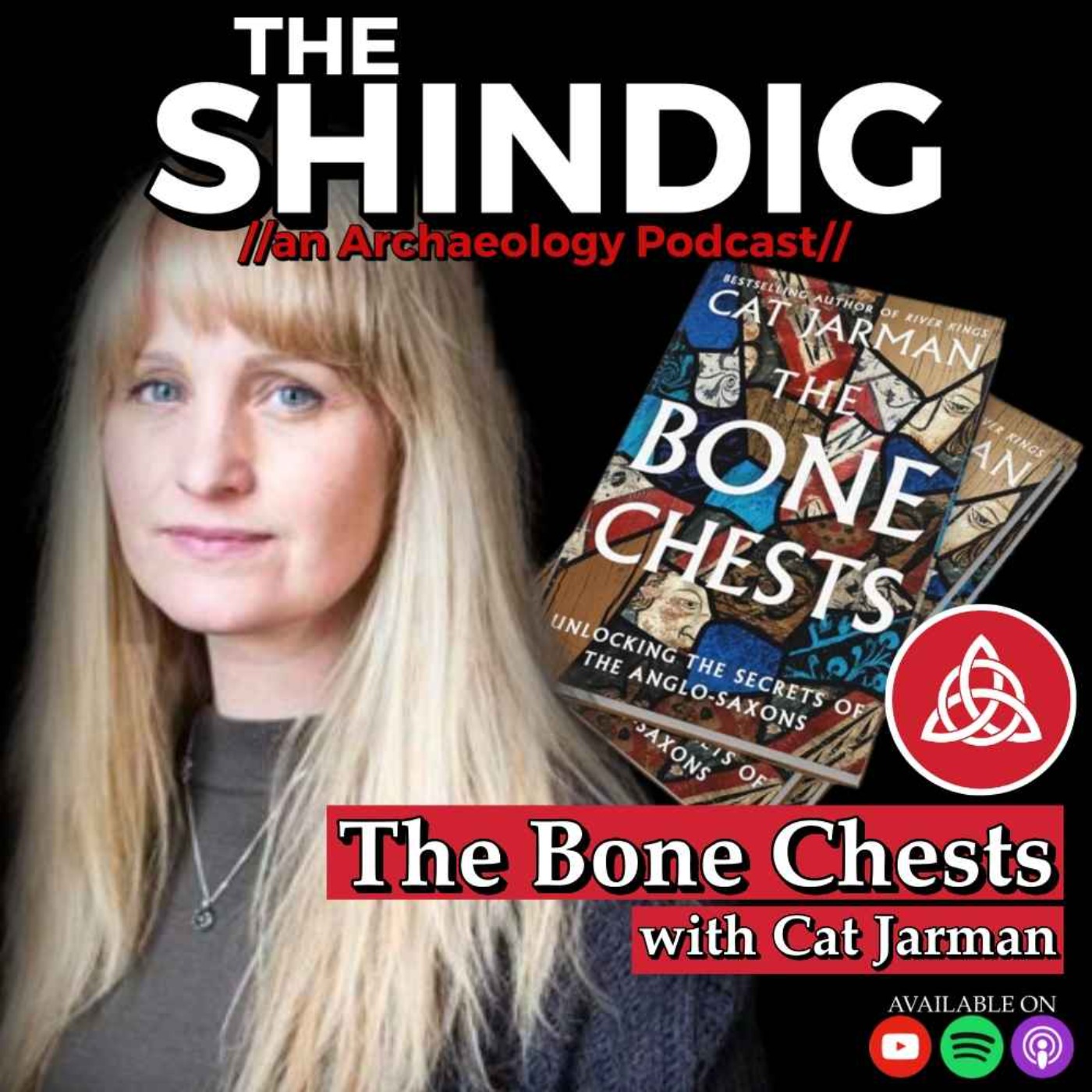 A Viking Cemetery in northern England: Adam Parsons of Oxford Archaeology tells us about the spectacular Cumwhitton Viking cemetery in Cumbria, subject of the brilliant 'Shadows in the Sand: Excavation of a Viking-age Cemetery at Cumwhitton', which Adam co-authored.
Initially discovered by metal detectorists Peter Adams and George when they found two Viking-style oval brooches, Oxford Archaeology excavated what turned out to be one of the most spectacular and important Viking cemeteries ever found in Britain. The seven furnished graves contained a truly remarkable selection of grave goods, including the remains of a wooden box containing shears, needles and a glass slickstone for smoothing fabric, with other graves containing items like amber beads, pins, silver rings, swords, axes, spears, spurs/buckles, and rare evidence for rugs and textiles. While few bones remained in the sandy soil, the burial items at Cumwhitton tell us of a society rich both in material culture but also in the cross-cultural contacts and borrowings that made Viking-Age Cumbria such a remarkable place.
From Cumwhitton, we move across Cumbria to Workington and the discovery of a huge early medieval cemetery under the burnt-out remains of St. Michael's church. Excavated by Carlisle Archaeology, Adam and his colleagues completed the post-excavation work and wrote up the report on the amazing early medieval carved stones, inclusive of fragments of a newly-discovered 'hogback' stone, and multiple cemeteries, which include a mid-to-late 9th century grave with strong parallels to the Viking burials at Cumwhitton, underneath St. Michael's.
With a focus on the northern Britons, we end with a fascinating discussion on the new multicultural world that was carved out in Cumbria and its surrounding regions in the Viking Age.
Adam Parsons is a brilliant archaeological illustrator, writer and editor with Oxford Archaeology who has worked in archaeology for over 20 years. What's more, he has devoted his spare time to being brilliant at early medieval public outreach, making exact reproductions of historical artefacts for museums, universities, and individuals and being part of Cumbraland, a living history group dedicated to portraying the 9th-11th century Brittonic Kingdom of Strathclyde. Adam is no stranger to online outreach, having large followings across his Blueaxe Reproductions social media channels on Facebook, Twitter, YouTube, and more!
Prof. Fiona Edmonds
Gaelic Influence in the Northumbrian Kingdom: The Golden Age and the Viking Age
Edmonds, F. 15/12/2019 Woodbridge : Boydell & Brewer. 322 p. ISBN: 9781783273362. Electronic ISBN: 9781787445864.
The expansion of the Kingdom of Strathclyde
Edmonds, F. 1/02/2015 In: Early Medieval Europe. 23, 1, p. 43-88. 46 p.
Prof. Stephen Driscoll
Driscoll, S.T. (2014) The Govan Stones. History Scotland, 14(1), pp. 36-37.
Dalglish, C., Driscoll, S.T. , Maver, I., Shead, N.F. and Shearer, I. (2009) Historic Govan: Archaeology and Development. Series: The Scottish burgh survey. Historic Scotland: Edinburgh, UK. ISBN 9781902771625
Driscoll, S.T. (1998) Church archaeology in Glasgow and the kingdom of Strathclyde. Innes Review, 49(2), pp. 95-114.
Cynthia Thickpenny
Thickpenny, Cynthia Rose (2019) Making key pattern in Insular art: AD 600-1100. PhD thesis, University of Glasgow. https://theses.gla.ac.uk/41009/
---
Hosted on Acast. See acast.com/privacy for more information.